News Archive
06/2010 – Great Sorrow upon Dr. Kimenyi's Death
We are shocked and deeply saddened by the sudden loss of Alexandre Kimenyi, one of the key poets featured in our documentary about man-made atrocities, the resilience of the human spirit and the transformational power of poetry.
Dr. Kimenyi was an inspiring figure to us. The film began with an idea of Jan Warner to have a conference about the resilience of the human spirit and invite poets from around the world who survived some of the worst atrocities of the 20th century. Dr. Kimenyi was one of those poets she invited. In 2008 we followed him and his wife Matilde to Rwanda as he re-traced the steps of the Rwandan genocide and the effect it had on his family and the country. That trip was also a fulfillment of his dream of a "family reunion" - a chance to bring together the vastly dispersed members of his family for the first time since the genocide. He took inspiration from the typical American family reunion. But this one was to heal the deep seated psychological wounds. It was a profoundly moving time and we learned a lot from Dr. Kimenyi. His soul, his spirit and his dedication to overcoming tragedy will live on in our film.
It will be our honor to dedicate this film to him.
With great sorrow.
Jan Warner, Katja Esson, Corinna Sager, Alison Granucci and the team of Poetry of Resilience
11/2009 – Corinna Sager as keynote speaker at Wonder of Women Film Festival
Corinna Sager will be the keynote speaker at the Wonder of Women (WOW) Film Festival on Sunday, November 22nd at Montclair State University in Montclair, NJ. WOW is produced by the National Council of Jewish Women Essex County and is a one day film festival of short films and documentaries from independent filmmakers who portray the courage and spirit of women and promote understanding of the events and opinions that shape women's lives (a full list of films can be seen on their website).
Corinna will show a work-in-progress of Poetry of Resilience and discuss the process and challenges of producing a documentary. Tickets are available online or by calling the festival office at 973-740-0588.
08/2009 – New York State Council for the Arts Grant
Poetry of Resilience has just gotten notice that it will receive a grant from the New York State Council for the Arts (NYSCA). The grant was made possible through Women Make Movies - a  non-profit, multicultural, multiracial media arts organization which facilitates the production, promotion, distribution and exhibition of independent films and videotapes by and about women. Women Make Movies accepted Poetry of Resilience for Fiscal Sponsorship, which allowed us to apply for this grant. NYSCA's goal is to bring high quality artistic programs to the citizens of New York by supporting the activities of non-profit arts and cultural organizations.
02/2009 – Katja Esson to speak at Prestigious Writers Conference
Katja Esson and associate producer Alison Granucci will be speaking at the 2009 Association of Writers and Writing Programs (AWP) Conference in Chicago on February 13th. Their program is titled Poetry of Resilience and will also feature poets Kwame Dawes, Valzhyna Mort and Brian Turner. From prison life to the war in Iraq to global acts of violence and suppression against human beings, poetry has been used to speak out and to help transform traumatic events. Through their poems and narratives these extraordinary poets take us to the hearts of these events—a young Belarusian challenges a forbidden language, the ghosts of American soldiers in Balad still speak, and we are allowed a glimpse of the inner lives of inmates. With their verse they unveil the sublimation in poetry. With their unflinching accounts they remind us how frail the human spirit is, and how astounding.
The mission of the AWP is to foster literary talent and achievement, to advance the art of writing as essential to a good education, and to serve the makers, teachers, students, and readers of contemporary writing.
More than any other literary organization, AWP has helped North America to develop a literature as diverse as the continent's peoples.
AWP has helped to establish the largest system of literary patronage the world has ever seen. AWP has supported the development of hundreds of educational programs, conferences, reading series, and literary magazines as well as thousands of jobs for writers and new audiences for contemporary literature.
08/2008 – Production Moves to Film Poets in Exile in the United States
In August we filmed two of the poets who live in exile in the United States. We tied up Kimneyi's story by visiting him and his wife Matilde in Sacramento, California where his presence has attracted a small community of Exile -Tutsis.Then we drove down to St. Monica, California, where Iranian poet Majid Naficy has lived since1985. He has vowed never to return to Iran until the government offers a formal apology for the atrocities it committed against him and his family - but he knows that will never happen. Only recently has he written a new poem 'Oh Los Angeles' where he accepts his new home - yet admits: "My body lives in LA, but my soul is still rummaging through the ruins of a lost revolution back in Iran."
07/2008 – Searching for a Lost Childhood in Poland
Shortly after Rwanda we met with Lillian Boraks-Nemetz who had returned to Poland to visit the little village where she was hiding during the war. The new owners of the house had recently found a piece of jewelry that Lillian believed to be her grandmother's. When we got there she gave us a tour of the little house and the gardens and remembered all the hiding places as if it had happened yesterday.Much of Lillian's poetry talks about living in the Warsaw Ghetto as a seven-year old girl. In the Warsaw of today nothing is left of the Ghetto except two pieces of the wall, which makes walking the former Ghetto grounds even more haunting.Lillina also took us to the Death Camp Treblinka where most of her extended family died. We were the only visitors that day.
06/2008 – Poetry of Resilience receives NEA grant
"Poetry of Resilience" received the prestigious Media Arts: Access to Artistic Excellence Grant from the National Endowment for the Arts. Access to Artistic Excellence encourages and supports artistic creativity, preserves the United States' diverse cultural heritage, and makes the arts more widely available in communities throughout the country. Only 32 Media Arts grants were awarded in 2008, among them to such esteemed institutions such as the Sundance Film Institute, American Museum of the Moving Image, Channel Thirteen (WNET), The Independent Feature Project (IFP) and the National Alliance of Media Arts Centers. The National Endowment for the Arts is a public agency dedicated to supporting excellence in the arts. Established by Congress in 1965 as an independent agency of the federal government, the Endowment is the nation's largest annual funder of the arts.
06/2008 – On the Trail of the Genocide in Rwanda
In June 2008 we returned with Alexandre Kimenyi to his home country Rwanda. It was his first visit in 12 years. He returned to hold a memorial service for those family members who were killed during the genocide in 1994. However the only remains that have been found so far were those of his father and his uncle.

In the United States he and his wife Matilde had started to prepare 'The Dream Project', a reunion of all surviving family members who had come out of hiding. It was a very emotional day as relatives who hadn't seen each other in years could share their stories.

We accompanied Kimenyi and his wife most of the time but also traveled throughout the country to explore the past and the present day Rwanda. The beauty of the country stands in stark contrast to the memorial sites that display the past horrors in the form of coffins and shattered skulls.
10/2006 – Poetry of Resilience receives fiscal sponsorship from IDA
The International Documentary Association (IDA), a nonprofit membership organization dedicated to supporting the efforts of nonfiction film and video makers, has chosen "Poetry of Resilience" for its support of fiscal sponsorship. This assures that the film qualifies as a nonprofit production and any donations are fully Tax deductible.  IDA is the largest supporting organization of documentary film in the world with members in over 50 countries. Its Fiscal Sponsorship Program has provided the 501(c)(3) nonprofit umbrella to more than 300 film/video projects, many of which have gone on to success at festivals and markets, getting distribution and/or broadcast, or even garnering prestigious awards from the film community, such as  the Academy Awards® nominated Documentary Films "Spellbound" and "Why Can't We Be A Family Again".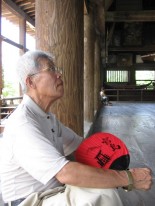 08/2006 – Katja Esson Begins Production of the Film in Hiroshima
In August of 2006 we went to Hiroshima to meet up with Haiku poet Yasuhiko Shigemoto and to film the 62nd commemoration of the dropping of the atom bomb. Yasuhiko was a guest of honor at that commemoration and read his 'Hiroshima Haiku'.During the following days we visited the Hiroshima Peace Museum, but the most emotional moment came when Yasuhiko brought us to the place where he was when the bomb was dropped. "White light, black rain". He kept repeating those words. The river and the bridge are still there today, and he survived only because he was able to hide under that bridge. Being only 15 years old at the time and scared to death, he didn't move, and watched in horror as thousands of burned people with "flesh hanging from their outstretched arms" marched by him like zombies in search of shade and water.