Team
Katja Esson
Writer/Director/Producer
Katja Esson was nominated for an Academy Award® for her film 'Ferry Tales', which turns the unlikely setting of the Staten Island Ferry women's bathroom into a celebration of sisterhood. Her most recent film, 'Skydancer', is about the Mohawk ironworkers who are responsible for constructing America's cityscape; the film is a provocative examination of Native American life in the 21st century. Other credits include 'Vertical Traveler', which explores the pioneering spirit of New York City through the metaphoric story of the city's unique relationship with elevators; 'Hole in the Sky', a portrait of New York five years after 9/11; 'Latching On' about the politics of breastfeeding in America; and 'Hooker, Harlot, Whore' about the history of prostitution in Europe. Esson's recent film 'Poetry of Resilience' is about six international poets who have survived – and written about – some of the world's most unspeakable crimes against humanity. Esson's films have screened at film festivals around the world and been broadcast on HBO, PBS and ARTE among others. Esson lives in Brooklyn, New York and divides her time between Germany and the United States.
Jan Warner
Executive Producer
In 2006 Jan Warner had the idea of bringing together in one place people who had not only suffered grievous wrongs but who were considered to be enemies (for example, a Palestinian and a Holocaust survivor). This resulted in what she is considers her most important achievement: a conference called The Resilience of the Human Spirit. It was decided to use poets who had survived genocide, war, political assassination and persecution and therefore was co-produced with Alison Granucci of Blue Flower Arts.This conference generated the idea for the beautifully conceived and moving film directed by Katja Esson: Poetry of Resilience. Jan is a poet, storyteller and most recently is trying her hand at stand up comedy.  After her husband's death she created a solo show called Pull Me Back and writes a blog on grief at griefspeaksout.com. She doesn't like the word philanthropist but has provided opportunities for many people from building houses in Afghanistan to sponsoring children at Rosie's Theater Kids. She also provides seed money for artistic projects she believes in.

Jan Warner on why she created of the 'Resilience of the Human Spirit' conference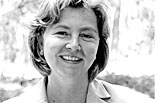 Corinna Sager
Co-Producer
Corinna Sager is an award winning director and producer. Her company, Lifestyle International, is a production agency for TV and video productions, live events and corporate communications serving global clients such as Bugatti, Pepsi, Kraft Foods, Mediterranean Shipping Company and Heidelberg Print. The documentaries she produced have been seen on various cable and TV networks, such as HBO, PBS, CNBC and the Franco-German cultural channel Arte. She co-produced 'Ferry Tales', directed by Katja Esson. She directed and produced the documentary 'Women – Our Century', which toured the US with Billy Jean King and Star Jones as part of a Roper Research presentation, as well as 'Container Shipping – A Revolution for World Trade'. Ms Sager has won many awards for her videos and documentaries such as the Gold Hermes Media Award, the Silver Golden Reel Award and the Bronze Telly among others.
Corinna Sager was also the Co-Founder and Co-Executive Producer of the United Nations Documentary Film Festival, "Stories From The Field", produced in association with the United Nations Department of Public Information and The New School.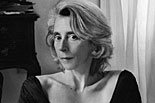 Alison Granucci
Co-Producer
Alison Granucci is the owner and president of Blue Flower Arts, LLC, a literary speaker's bureau, in Millbrook NY, representing many nationally known poets, authors, and speakers for readings and live appearances. Alison also curates and produces the Spoken Word Series at The Guthrie Center, in Great Barrington, Mass, housed in the old trinity church of Arlo Guthrie's Alice's Restaurant fame.
In 2006, she co-produced with Jan Warner 'The Resilience of the Human Spirit: An International Gathering of Poets' as part of the Spoken Word Series at the Guthrie Center. Formerly the Executive Program Manager for conferences at the Omega Institute, the country's largest non-profit education retreat center, Alison helped program and produce several national conferences, such as Women and Power, Fearless Living, and Celebration of Poetry, working with many celebrities such as Christopher Reeve, Debra Winger, Frank McCourt, Jane Fonda, and others. She also co-produced, with playwright Eve Ensler's organization V-Day, a star-studded benefit concert at the legendary Apollo Theater in Harlem.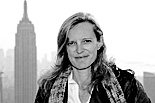 Sabine Schenk
Co-Producer
Sabine Schenk is a Producer / Line Producer based in New York. She completed her M.A. in cinema studies from NYU. She was an event coordinator at the Berlin International Film Festival for three years. In 1998 she founded her own company, Schenk Productions, Inc., offering production services for local and international film and media projects in New York and throughout the United States. Among the many projects she has worked on, she co-produced the documentary 'Ferry Tales' which was nominated for an Academy Award in 2004.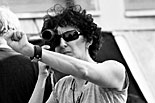 Martina Radwan
Cinematographer
Martina Radwan started in her native Germany in the film industry as a Camera Technician at ARRI, Berlin and consequently worked as an Assistant Camera for DP's like Robby Mueller and directors like Wim Wenders and Albert Maysles. In 1995 she moved to New York where she attended the film program at NYU. Shortly after, she started to work as a Director of Photography. Her features and documentaries could be seen in theaters, festivals, HBO, Sundance Channel and PBS.
'Ferry Tales', a documentary she shot in collaboration with Katja Esson, was nominated for the 2004 Academy Award. Her work also includes collaboration with Ellen Kuras and directors like Rebecca Miller, Alison McLean and Jeff Lipsky, the well-known independent film distributor. Her narrative work includes 'Flannel Pajamas', by Jeff Lipsky, 'Singapore Dreaming' one of the first Singaporean feature productions, which won numerous international awards and 'Killing Floor', a thriller directed by Gideon Raff and produced by Doug Liman & Avi Arad. Martina Radwan also photographed 'Rain', the first indigenous film of the Bahamas, produced & directed by Maria Govern. In the summer of '07 she re-teamed with Gideon Raff for a horror film, 'Train' produced by Millennium Films.
Ferne Pearlstein
Cinematographer
Ferne Pearlstein is a graduate of Stanford's Master's Program in Documentary Film, the International Center of Photography, and the University of Michigan. In 2004 she won the Excellence in Cinematography prize for documentary at the Sundance Film Festival for her work on 'Imelda.' Among her other cinematography credits are DP on three-time Academy Award nominee Deborah Dickson's 'Ruthie and Connie: Every Room in the House' for HBO (World Premiere, 2002 Berlinale); Jan Krawitz' 'Big Enough,' a sequel to her award-winning PBS film 'Little People' Robert Edwards' 'The Voice of the Prophet' (Sundance, Toronto, Human Rights Watch, 2002); Sam Ball's 'Pleasures of Urban Decay' (Sundance, San Francisco Jewish Film Festival, 2000); DP and co-producer on 'Taken In: The Lives of America's Foster Children,' by 2008 Academy Award winner Vanessa Roth (Sundance 1998, DuPont-Columbia Award 1999); 'Mustafa', a pilot for a TV series on Spike TV; and the controversial new film, '2 Million Minutes,' by Frontline reporter Chad Heeter. Currently she is shooting a new feature documentary on women leaders and global security for two-time Oscar nominees Deborah Hoffman and Frances Reid, winners of the Sundance Grand Jury Prize in Documentary for 'Long Night's Journey Into Day' and 'Black Dahlia'.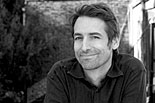 Caspar Stracke
Cinematographer
Caspar Stracke is an interdisciplinary artist and filmmaker from Germany, living and working in New York City since 1993. His work is situated around architecture and urbanism, media archaeology as well as various social and politcal aspects of cinema. His films, videos and installation work has been shown in numerous exhibitions, retrospectives and festivals throughout North and South America, Europe and Asia. In 1999 he completed his first feature-length 35mm film project CIRCLE'S SHORT CIRCUIT which toured throughout the US and Europe and was selected for the American Century Part II exhibition at the Whitney Museum, NY. He is an active member of THE THING, a NY-based nexus for art and net culture. Since 2005 he is the co-director of video_dumbo a festival for contemporary video art in NYC, co-presented by the Dumbo Arts Center (dac).
Susanne Schiebler
Editor and Visual Effects
Susanne Schiebler is an editor and media artist based in Germany. She was born in Chemnitz and studied Media & Graphic Design at Bauhaus University in Weimar, Germany. Her thesis, 'Schöne Heimat' ('Beautiful Homeland') a multilinear feature film on DVD, received the interactive design HAL-Award in 2003. While studying she started working as an editor and title designer, mostly in documentaries for public German broadcasting networks, and also artistic projects. In 2009 she worked together with Katja Esson on the feature TV documentary 'The Oldest Profession - Sex Work Past and Present' which was broadcast on the German national broadcast network ARD. In the last few years Susanne edited major public broadcasting documentaries, such as the ARD documentary series 'Damals nach der DDR' ('After the Wall'), and 'Mein Deutschland' ('My Germany'), including all the artwork for the project. In 2005 she edited the feature documentary 'The Rebell', and produced the DVD for the film including 90 additional minutes of interactive film material, and all the project artwork. In 2004 and 2005 Susanne took part in the Berlinale Talent Campus, and edited the short documentary 'A Stranger in a Bioscope' with the Indian Filmmaker Debalina Majumder.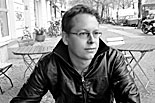 Felix Drawe
Additional Editor
Felix Drawe is an editor based in Hamburg, Germany who also works in Berlin, Vienna, Austria and Zurich, Switzerland as well occasionally in the United States. His work is very diversified and includes award winning commercials (Cannes Lions Award, German Art Directors Club Award), music videos for major European acts as well as documentaries for German broadcasting networks and cable channels.
He has edited several documentaries with Katja Esson including: 'Gateway to the World: The Port of New York', 'Hole in the Sky – The Scars of 9/11'(co-editor) and he is currently also in production with Katja Essons other project 'Skydancer'.
Eric Hachikian
Composer
Eric v. Hachikian is an Armenian-American composer, whose music has been hailed by the New York Times as 'lovely and original'. His compositions and orchestrations can be heard in a variety of major motion pictures ('New York, I Love You', 'The Wrestler', 'Sicko'), network television shows (LIFE: The Series; Entourage; Rubicon; The Big C; How to Make It In America; Life On Mars; Dirty Sexy Money), and national ad campaigns (Maxwell House; Trident; Comcast; Mitchum; Goldfish; Wendy's; Yahtzee), as well as Off-Broadway (New House Under Construction; A Christmas Carol); they have been performed by the Los Angeles Philharmonic, the New York Pops Orchestra, the Baltimore Symphony, and the Boston Pops Orchestra, and in such venues as New York's Carnegie Hall and Alice Tully Hall, and in Boston's Symphony Hall. A classically trained composer, as well as self-taught DJ and perpetual student of world music, Eric's musical style has no boundaries, and his multi-genre interests result in a unique and personal sound.
Eric studied Nadia Boulanger's methods in Paris, France, and has also studied composition and audio engineering at the Aspen and Tanglewood Music Festivals, as well as at Northwestern University and Oberlin Conservatory. Eric received his Bachelor of Music with highest honors from the University of Michigan, and his Master of Arts from New York University. Also a performer, Eric plays the piano and tuba, is a classically trained vocalist, and an accomplished conductor.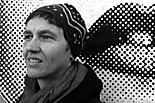 Nani Schumann
Sound editor
Nani Schumann is a sound designer and story consultant in Germany and the United States. After starting her career in picture editing, she made a creative move into the sound department. In New York City she worked on major motion pictures like 'Aviator' and 'Gangs of New York' by Martin Scorsese and '25th Hour' by Spike Lee. In 2004, 'Ferry Tales,' a documentary by Katja Esson for which she edited and designed the sound, was nominated for an Academy Award. Since then she has worked on 'Skydancer' and 'Poetry of Resilience' also by Katja Esson. In Germany she has worked with Klaus M. Brandauer on 'Georg Elser' as well as for Oscar-winner Volker Schlöndorff on 'Die Geschichte der Dienerin', and more recently on 'Gegen die Wand' by Fatih Akin which won the Golden Bear at the Berlin Film Festival in 2005. She also worked for German directors like Lars Becker, Dagmar Hirtz, Hermine Huntgeburth, Ayse Polat, Niki Stein, Sven Taddicken, and Peter Timm. In recent years Schumann also added story consulting to her skills. Currently she is designing the sound as well as consulting on the story lines for Katja Esson's five part series 'Backroad' for the Franco-German channel ARTE.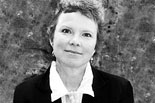 Carolyn Forché
Creative Consultant

Known as a "poet of witness", Carolyn Forché is the author of four award-winning books of poetry, 'Gathering The Tribes', 'The Country Between Us', 'The Angel of History', and 'Blue Hour', and she is the editor of the highly acclaimed anthology 'Against Forgetting: Twentieth Century Poetry of Witness'. Forché has held three fellowships from The National Endowment for the Arts, and in 1992 received a Lannan Foundation Literary Fellowship.
In 1977, Forche traveled to Spain to translate the work of Salvadoran – exiled poet Claribel Alegría, and upon her return, received a John Simon Guggenheim Foundation Fellowship, which enabled her to travel to El Salvador, where she worked as a human rights advocate. Her translations of Alegria's work have been published in two volumes, 'Flowers From The Volcano' (1983) and 'Sorrow' (2000). In 1998 in Stockholm, Forche was given the Edita and Ira Morris Hiroshima Foundation for Peace and Culture Award, in recognition of her work on behalf of human rights and the preservation of memory and culture.